The spa area in Hotel Tiroler Adler in Luttach – restore your inner balance
After an exciting and fun day out in Ahrntal, enjoy a few relaxing hours in our "oasis of well-being", and recharge your batteries for the next day!
In our spa, you'll find a traditional Finnish sauna, a Roman steam room, an infrared cabin and a relaxation room. Forget the hustle and bustle of everyday life and immerse yourself in the delightfully peaceful atmosphere of our spa. The large hotel garden includes a sunbathing lawn where guests can relax.
Relaxation in the sauna area
When you enjoy a Finnish sauna, it is the contrast between heat and cold which helps you relax – body and mind. Finnish saunas stimulate, cleanse and detoxify your body, filling you with new energy. It's good for your heart and improves your circulation and other bodily functions.
The steam room
The soothing interplay of steam and warmth helps to loosen cramps. As your body relaxes, you'll also feel tension and irritability slipping away. The warmth of the steam room penetrates deep into your tissues, improving the blood supply to your organs and thus triggering healing processes.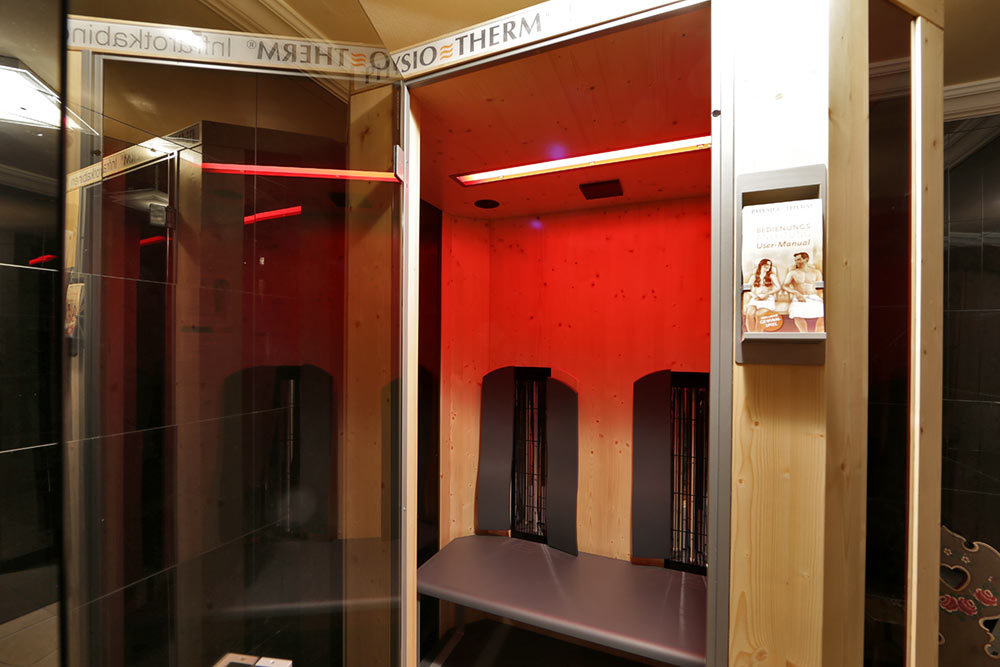 The infrared cabin
Gentle infrared warmth has a positive effect on the human body. Used regularly, it can make you feel better and increase your vitality.
Infrared raises your body temperature and enables your blood vessels to transport more warmth and energy. The body responds by sweating heavily, which in turn strengthens your immune system, relaxes your muscles, reduces back and joint pain, and gently stimulates your cardiovascular system.